Volunteers from across Team Hampshire were invited to attend the Autumn County Conference and find out more about the activities and plans of the county teams.
Featuring an address by the County Commissioner and our Regional Commissioner – South East England Ian Newbery. We were also joined by our new UK Chief Commissioner Carl Hankinson as our keynote speaker. You can view the conference recording below.
You can click here to view the presentation slides.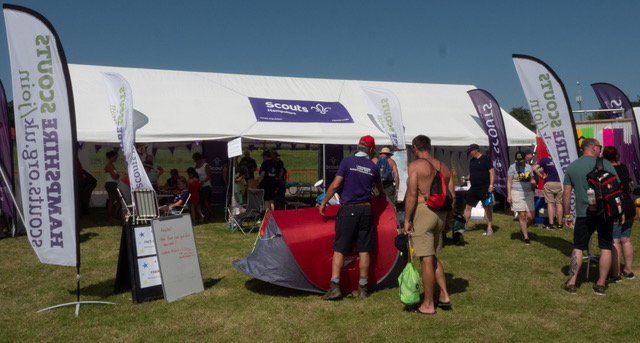 Hampshire Scouts have been asked again this year to support Children In Need's CarFest and are looking for volunteers to join our team supporting the staff, enjoying CarFest and having fun!
Volunteers will be expected to contribute around 16-20 hours over the four days, either on wristband exchange or on the stand that we are running to promote Scouts in Hampshire. This may sound like a lot, but a CarFest day starts at 6am and runs until 10pm, so you'll have plenty of your own time to enjoy everything that CarFest has to offer - the festival, the cars, the food and the bands!
The event takes place Thursday 26th - Monday 30th August, at Laverstoke Park Farm, Overton, Hampshire, RG25 3DR.
CarFest is once again opening to the public campers on Thursday afternoon, so in addition there will be activities on the Thursday evening which we have been asked to support.  We need to be set up and ready to greet campers by 2pm on Thursday and will be camping through until Monday morning.
We are looking for around 120 volunteers to help with the event. Please share this page with any Scout friends that you think would be interested in a weekend of hard work, but amazing fun. Non-scouting partners are welcome to join you too.
You will need to bring your own tent, but we have limited space so think small! Dinner can be arranged through an onsite caterer at a reduced rate. If you wish to sign up for the catering option, we will send you the link to book separately at a later date.
So, having read this, do you want to join us?
To register your attendance and tell us your availability & requirements, we will need each person to register individually using the link above. Please note that volunteers have to be over 18 years old. If you are thinking of bringing your children please do let us know in advance as you will need to purchase them a festival ticket.
By completing this form, you are committing to the weekend; we appreciate that people get poorly or family issues crop up, however we have been let down by people pulling out in the past, and this gives us a real problem as we are working with the organisers to cover a large rota of duties. Please do only sign up if you fully intend to join us.
We will be asking you for detailed information such as medical information, event preferences, t-shirt (TBA), food choices etc. nearer the event.
If you have any questions, please send them to [email protected] - County Growth and Development Officer, or ring 07900 536504.
Today, the Scouts are launching the #GoodForYou campaign to recruit new adults to help us. We're making a lot of noise to reach members of the public so here are some tips to make the most of it for your group.
The campaign emphasises why we volunteer everyday. We have fun, it lightens our mood and makes us smile. It gives us new skills and lets us try new things. It can be a real benefit to our health and our wellbeing. And that's before we even mention how much it improves our communities and transforms the lives of our young people.
Take advantage of the noise
Nationally, the Scouts are planning to make a lot of noise about the campaign and the launch with interviews on the television and articles in newspapers. Locally, we're also shouting about the campaign online and in print.
We know that lots of people would volunteer if only they are asked and that most of our volunteers come from our parents. So make sure you share the articles, the news clips and the social media posts to your pages and with your parents.
This allows you to reap the benefits of our hard work. Why wouldn't you.
Use the social media kits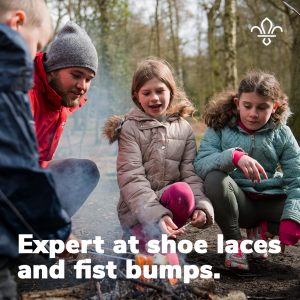 Want to create some specific posts for you? The Scout Brand centre is here to help you.
Especially for this campaign, the Scouts have put together a series of ready to use images for Facebook, Twitter and Instagram and videos. They even give you suggested words for those posts as well!
Simply log in, download the kits and they're ready to use at the grassroots.
Recruitment ready kits
As well as new posters, pictures and designs for you to use with the campaign, the Brand Centre also has some more bespoke kits for you. These kits give you a combined series of resources to help you recruit.
Call on our Chief Scout, Bear Grylls, or one of our ambassadors in two kits. Maybe you want to run the Four Week challenge in support of the campaign? Or if you're starting from scratch there is a kit that covers the basics for you.
All on the Scout Brand centre ready for you. If you have any questions about using the kits or accessing the brand centre, get in contact at [email protected]
Updated advice on scouts.org.uk
If you want any advice on growing in any way, then the Scouts have recently revamped their entire advice pages on their website. The Growing Scouts pages have tons of information and resources on getting new adults and young people, re-engaging former volunteers, saying thank you, connecting with our communities and setting up new sections.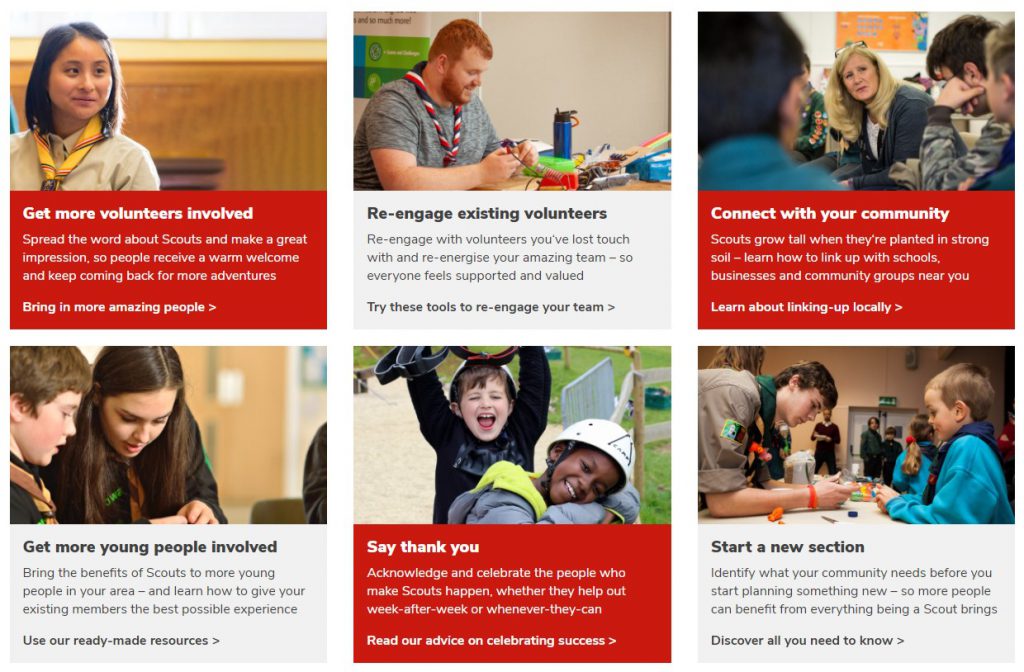 Need a hand? Our Growth and Development team are here to help. Find out about them on our website.
As Scouts we've been prepared for more than 100 years for whatever life throws at us, ready with a plan B.
In March, Hampshire Scouts looked to the future and as part of our County Conference, we unveiled our plan to recover from the impacts of the pandemic. We want to continue to give as many young people skills for life as possible and to do that we need to make sure our local volunteers are supported to do this.
Please take a look at the presentations that were given at the conference to find out more. You can also read more about our plan to #BouceBack in this article.
The full agenda from the conference can be found here.
Welcome and update from the County Commissioner
Update on the pilot of Early Years Scouting
Update from the Programme Team
Update from the County Chair
Update from the Growth and Development Team
Update from the Adult Support Team
We're ready and have got the vision but do you? Take a look at our plan below, to #BounceBack as we recover from the pandemic.

We know just how much everyone is looking forward to getting back to face to face Scouting as soon as they can! To help make the process as easy as possible, Hampshire Scouts have developed a resource to help Leaders bring their Sections and Groups back to face-to-face Scouts.
To support this, we describe a countdown of five key steps. Starting with advice to help people prepare, we then provide programme ideas to help guide Sections through the various steps – including both practical activities and the softer skill activities which are going to be important to a successful return to Scouting.
There are lots of people and resources to help you, including your District, and all parts of the County team.
When you have achieved all five steps, please let us know. Share your story on social media so we can share it with other Leaders.
The 5, 4, 3, 2, 1 checklist of key areas to think about as you prepare for a safe return can be found here!
Hampshire Scouts is in the early days of working on its participation in the 25th World Scout Jamboree in South Korea, in August 2023!
As in previous years, we are also in the early days of the alternative expedition that Hampshire Scouts runs alongside of the World Scout Jamboree, which currently has the working title of "Project 23".
We have had a number of people inquire about these, so we have set up a form to capture "Expressions of Interest" as either a participant, or as an Adult Volunteer. This includes just receiving information, to enable you to pass on to others.
If you were born after 1st August 2005, then you can register an interest to apply as a participant for the 25th World Scout Jamboree.
If you were born on 1st August 2005 or before, then you can register an interest to apply as either;
A Leader for the 25th World Scout Jamboree
A member of the IST (International Service Team) for the 25th WSJ
A Leader for Project 23
To receive information to pass to others
As information then emerges over the next few months, and application process open, we will then automatically send you the information directly.
If you have any questions, please get in touch with us by dropping an email to [email protected]
We've a lot to thank people for over the past 12 months so we're asking you to thank two people or groups of people who have helped you this year.
The 22nd February is always a time when Scouts around the world pause and think about this great movement for peace that has been built from humble origins 113 years ago.
Why February 22nd? It was Baden-Powell's birthday and has been marked as Founders Day ever since.
This year Scouts across the world are inviting our volunteers or our young people to thank those who have kept us going this year. From care workers to your parents, the friends who joins you for a cuppa on Zoom to someone you've met this year show them you care this Founders Day.
Join us on the day by sharing your thanks on social media or on our Facebook page. You can even dedicate a window to brighten up your street, a great activity for our young people.
You can find templates for a decorative window and more ideas at the Scouts website page for ThankTwo.
Plus you can find our video thanking key workers from last year below.
Ferny Crofts Scout Activity Centre is looking to recruit a team of volunteers to support us in getting the centre, ready for the summer season, and also to help us deliver activities for Scouts throughout the year. Volunteering opportunities will commence as soon as Coronavirus restrictions are lifted sufficiently to allow this to take place safely.
We are looking for people to help us in a few different areas:
Work parties to join us over a weekend to carry out some basic maintenance around the site – this may include painting, campsite maintenance, leaf clearing and other ground works.
Scout Activity Permit holders (or those interested in gaining them) to help instruct activity sessions to Scouting guests.
Volunteers to help us run the Tuck Shop or Reception during the busiest periods of the year.
If you want to get involved, please fill out our expression of interest form.
At the moment this is an expression of interest only. As soon as we know more about when we may be allowed to start Scouting activities again we will be in contact with you.
As Scouts we love to get outdoors and try new things. But with winter and everything going on, we know its hard to think of ideas of what to do right now. To help you deliver great online Scouting, we've pulled together our list of places to find great ideas.
Press Play activities
These two sources of activities are much newer so you may not have heard much about them yet. Both of them are prepared by Scout leaders for Scout leaders and you can pick them up and run them with your section without much planning or adaptation needed.
Press Play and Go activities are made by HQ and have a video activity you can share with your Zoom session directly with the video doing all the work. New activities arrive every week and there are activities for Beavers/Cubs and Scouts/Explorers.
1st Digital Scouts is the new kid on the block with videos by Scout Content. These videos are nice and short, follow a good structure for zoom sessions, and give you up front what you'll need. There are weekly videos for Beavers, Cubs, Scouts and Explorers ready to go.
Ideas from the grassroots
Across the UK there are loads of other leaders looking for ideas and sharing what they've found in various different Facebook groups. 1st Virtual Scout Group on Facebook and 1st Facebook Scout Group are the big ones. The posts in these groups are easily searchable and linked together in topics.
There are lots of activities out there including PowerPoints for activities, games, escape rooms and links to more external resources. Lots of charities are offering activities that can work over Zoom, the RNLI being a good example, and there are many guest presenters that leaders can invite to show off their skills or animals or whatever!
Activities linked to badges
So you may know about the new Scouts Activities tool already – it replaced the old Programmes on a Plate and is linked to the Programme Planning Tool that HQ is building and adding to. Throughout this weird time, the Scouts and the partners have been adding to this Activity index and adding new filters to make it searchable – so you can look at just online activities for example.
More usefully though, these activity listings can also be found on the pages for different badges on the Scout websites. At the bottom of these pages, below the badge requirements, is a box with activities that can be used to tick off these requirements. While some might need tweaking, there are lots of activities that you can use to get things started.
Some other honorable mentions:
Scoutadelic are a YouTube channel run by Scout leaders and they make great videos teaching lots of different scouting skills from first aid to campfire songs.
Chester Zoo have made lots of resources and activities to support people at home, with fun activities, spotting the signs of your animal visitors and more practical experiences pitched at lots of different age ranges.
Scout Adventures have long made resources to support leaders with practical Scout skills and their page also has some smashing recipes as well.
There are currently some fantastic volunteering opportunities for you to help support the Scouts across Hampshire and in your local area.
County Treasurer
Good with numbers? We're looking for someone with financial skills to join us as our County Treasurer!
Ideally, you'll have senior financial management experience, gained in a commercial or public/third sector institution, and can demonstrate both financial acumen and a sensitivity to the charitable objects of Hampshire Scouts.
This is a rewarding role, and perfect way to put your skills to use, and support Scouting, without necessarily working directly with young people. Find out more!
Lead Volunteer - Eastleigh Scouts
(District Commissioner)
The role of a District Commissioner is very rewarding and is an opportunity to develop yourself and others. The District Commissioner, or District Commissioner Team, will have the opportunity to meet young people and adults, whose lives have been changed as Scouts, and to inspire and help Scouts Groups grow and deliver even more exciting and adventurous activities to even more young people. This is a flexible role and this role is open to role share within a small team. The format of the team can be decided between its members with some guidance from Headquarters. Interested? Take a look!
Neither of these roles need to be filled by current adult volunteers. To find out more about these roles, or any of the others currently available, please take a look at our vacancies page.