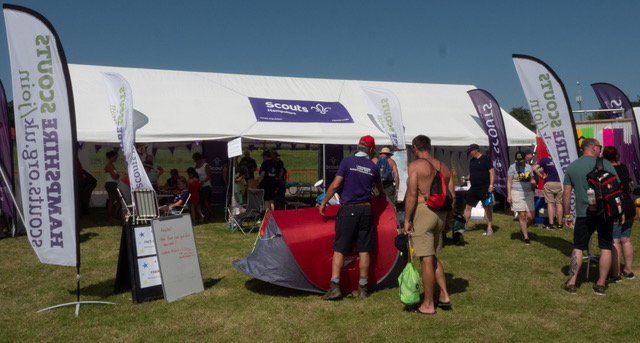 Hampshire Scouts have been asked again this year to support Children In Need's CarFest and are looking for volunteers to join our team supporting the staff, enjoying CarFest and having fun!
Volunteers will be expected to contribute around 16-20 hours over the four days, either on wristband exchange or on the stand that we are running to promote Scouts in Hampshire. This may sound like a lot, but a CarFest day starts at 6am and runs until 10pm, so you'll have plenty of your own time to enjoy everything that CarFest has to offer - the festival, the cars, the food and the bands!
The event takes place Thursday 26th - Monday 30th August, at Laverstoke Park Farm, Overton, Hampshire, RG25 3DR.
CarFest is once again opening to the public campers on Thursday afternoon, so in addition there will be activities on the Thursday evening which we have been asked to support.  We need to be set up and ready to greet campers by 2pm on Thursday and will be camping through until Monday morning.
We are looking for around 120 volunteers to help with the event. Please share this page with any Scout friends that you think would be interested in a weekend of hard work, but amazing fun. Non-scouting partners are welcome to join you too.
You will need to bring your own tent, but we have limited space so think small! Dinner can be arranged through an onsite caterer at a reduced rate. If you wish to sign up for the catering option, we will send you the link to book separately at a later date.
So, having read this, do you want to join us?
To register your attendance and tell us your availability & requirements, we will need each person to register individually using the link above. Please note that volunteers have to be over 18 years old. If you are thinking of bringing your children please do let us know in advance as you will need to purchase them a festival ticket.
By completing this form, you are committing to the weekend; we appreciate that people get poorly or family issues crop up, however we have been let down by people pulling out in the past, and this gives us a real problem as we are working with the organisers to cover a large rota of duties. Please do only sign up if you fully intend to join us.
We will be asking you for detailed information such as medical information, event preferences, t-shirt (TBA), food choices etc. nearer the event.
If you have any questions, please send them to [email protected] - County Growth and Development Officer, or ring 07900 536504.
Today, the Scouts are launching the #GoodForYou campaign to recruit new adults to help us. We're making a lot of noise to reach members of the public so here are some tips to make the most of it for your group.
The campaign emphasises why we volunteer everyday. We have fun, it lightens our mood and makes us smile. It gives us new skills and lets us try new things. It can be a real benefit to our health and our wellbeing. And that's before we even mention how much it improves our communities and transforms the lives of our young people.
Take advantage of the noise
Nationally, the Scouts are planning to make a lot of noise about the campaign and the launch with interviews on the television and articles in newspapers. Locally, we're also shouting about the campaign online and in print.
We know that lots of people would volunteer if only they are asked and that most of our volunteers come from our parents. So make sure you share the articles, the news clips and the social media posts to your pages and with your parents.
This allows you to reap the benefits of our hard work. Why wouldn't you.
Use the social media kits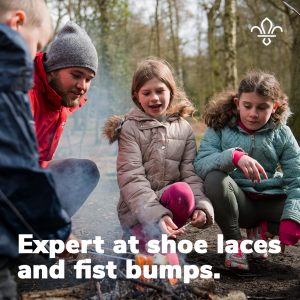 Want to create some specific posts for you? The Scout Brand centre is here to help you.
Especially for this campaign, the Scouts have put together a series of ready to use images for Facebook, Twitter and Instagram and videos. They even give you suggested words for those posts as well!
Simply log in, download the kits and they're ready to use at the grassroots.
Recruitment ready kits
As well as new posters, pictures and designs for you to use with the campaign, the Brand Centre also has some more bespoke kits for you. These kits give you a combined series of resources to help you recruit.
Call on our Chief Scout, Bear Grylls, or one of our ambassadors in two kits. Maybe you want to run the Four Week challenge in support of the campaign? Or if you're starting from scratch there is a kit that covers the basics for you.
All on the Scout Brand centre ready for you. If you have any questions about using the kits or accessing the brand centre, get in contact at [email protected]
Updated advice on scouts.org.uk
If you want any advice on growing in any way, then the Scouts have recently revamped their entire advice pages on their website. The Growing Scouts pages have tons of information and resources on getting new adults and young people, re-engaging former volunteers, saying thank you, connecting with our communities and setting up new sections.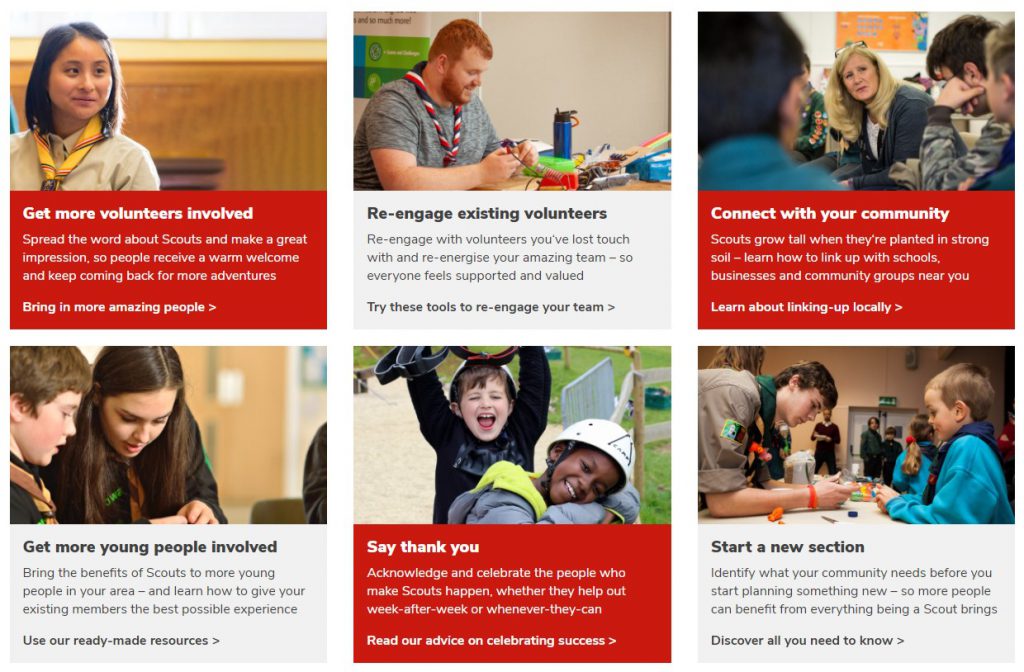 Need a hand? Our Growth and Development team are here to help. Find out about them on our website.
We've a lot to thank people for over the past 12 months so we're asking you to thank two people or groups of people who have helped you this year.
The 22nd February is always a time when Scouts around the world pause and think about this great movement for peace that has been built from humble origins 113 years ago.
Why February 22nd? It was Baden-Powell's birthday and has been marked as Founders Day ever since.
This year Scouts across the world are inviting our volunteers or our young people to thank those who have kept us going this year. From care workers to your parents, the friends who joins you for a cuppa on Zoom to someone you've met this year show them you care this Founders Day.
Join us on the day by sharing your thanks on social media or on our Facebook page. You can even dedicate a window to brighten up your street, a great activity for our young people.
You can find templates for a decorative window and more ideas at the Scouts website page for ThankTwo.
Plus you can find our video thanking key workers from last year below.
Hampshire Scouts are inviting you to join us on Sunday November 8th at 10:15 to help us remember those affected by conflict and support our Armed Forces community. We will be livestreaming a pre-recorded video helping us all to commemorate and honour those who have served and sacrificed. Featuring stories, poems and more, we wanted to allow both our members and the general public to take part in the annual event from the safety of their own homes.
So, head over to our Facebook page on Sunday 8th 10:15-10:45 and please donate at https://www.britishlegion.org.uk/get-involved/ways-to-give/donate or purchase a poppy if you can.

Click here for the Hampshire Scouts Pennant template
Hampshire Scouts have embarked on a new project involving every Section, Group and Unit in Hampshire, bringing us all together as we start to return to normal Scouting. The idea is for each Section, Group and Unit to create a pennant so we can join them together and display them at Activity Centre locations and future events.
We would like your Section, Group or Unit to design and draw these pennants, using the provided template. For your pennant, we would like your young people to draw a picture on the front of something they enjoy within Scouts, or something they are looking forward to doing. On the back of the pennant, please can you include some information about your Section, Group or Unit (your Section/Group name and Group logo/badge) and the first names (no last names) of the young people within your Section, Group or Unit (this can be handwritten or typed). Please send in your ONE chosen pennant per Section.
We will leave the activity up to you to plan, but this could be done face to face (following the COVID guide lines) or virtually. One idea would be to run it as a competition, where each young person designs the front of the pennant and a winner is chosen. This can also count towards certain badges, like the creative activity badge.
Once you have drawn your pennant, please copy it and keep a copy for your Section/Group/Unit, then please email it to us at [email protected] If you would like to see your pennant displayed at our Christmas event, please send them in by the 5th December 2020.
If you have any questions, please contact us at [email protected]
From recognising the very best of our volunteers, to highlighting some of the awesome activities our young people have been up to during the Covid-19 pandemic, check out the latest edition of Hampshire Scouts News here.
As Scouts we believe in bringing people together and improving the lives of those in our communities. Many of our members are working hard on the frontline, to keep our country safe and care for those in need. Hampshire Scouts would like to recognise individuals who are helping to overcome the Coronavirus pandemic.
Roll of Honour
The following people have been recognised as Scout's Key Heroes during the Coronavirus pandemic by other members of Hampshire Scouts. They have been working hard to keep our country moving and contributing to the fight against Coronavirus.
Paul Stockdale
Michael Quicke
Jacqui Akintunde
Chloe Knott
Rebecca Greentree
Rozy Toomer
Wesley Taylor
Boniswa Ruddock
Gavin Jones
Lee Greenwood
Teresa Ginn
Carolyn Barton-Hide
Dan Bennett
Iain Redmill
David Banister
Lou Eyles
Elaine Buckland
Fiona Ward
Martin Jennings
Lynn Knott
Adrian McKenzie
Gus Angus
Adrian Robinson
Albert Tatavossian
Simon Surplice
Claire Byrne
Nik Burlock
Richard Smith
Wendy Durrant
David Holloway
Aaron Ross
Harry Cotton
All NHS Front-Line Workers
Jude Turvey
Jamie Kelly
Luke Hall
Hannah Russell
Beccy Scott
Nigel Fleetwood
Jane Whitty
Sam Chapman
Rosie Powell
Marian Brace
Clare Talks
Katie Simmons
Baloo at 1st Warsash Wight
Richard Marrington
Gavin Babbage
Barbara Holloway
Sam Tudajaroglu
Helen Coyte
Andy Eyles
Simon Mainwaring
Katrina Sharp
Zoe Janaway
Philippa Cass
Ben Kendrick
Rebecca Taunton
Elan Stace
Lisa Reade
Adam Jollans
David Skelton
Michael McHugh
Zoe Van Willigen
Daniel Harwood
Jordan Reed
Kathy Ellis
David Ashby
Adam Brimacombe
Jordon Reed
Jimi Noyce
Andreia Tomé
Russell Andrews
James Mintoff
Tom Putz
Jo-Anne Stubbington
Ali Jennings
Oliver Hyde
Fi Durrant
Philippa Scott
Lee Philips
Rhiannon Tennant
Michele Lynch
Ella-Louise's Mum
Paul Wenham
Andrew Charnley
Kayleigh Eggleton
Naomi Ledwich
Estelle Adde
Lisa Scott
Oli Bills
Edward Harrison
Des Mahon
Clare Webb
Margaret Shepherd
Scott Burns
Briony Lewis
Emma Hanslip
Jake Jukes
Harris Agoodman
Sean Purchase
Colin Wallace
Kevin Gillkerson
Emma Greentree
Joe Ray
Ellie Williams
Stuart Goddard
All 7th Eastleigh Section Leaders
Sean Reeves
Helen Fisher
Daniel Wiseman
Jacob Goodchild
Gary Foote
Cub Leadership Team at 1st Aldershot
Joshua Dudley
Melody Chan
Jack Tracy
Michele Rodericks
Caryl Gregory
Nigel Bishop
Kayleigh Newcombe
Martin Mackey
Rebecca Cillers
Tricia Cherrett
Michela Horner
Laurence Mallinson
Lisa Young
Kate Burrows
Anna Bazzoni
Jo Lewis
Trevor Smith
Helena Dawson
Vicki Furby
Jenna Noble
Phoebe Cullen
Lynn Tatavossian
Steven Urry
David Mallenby
Glen Humpleby
Jayne Hogan
Robert Chidwick
Peter Moody
James Robson
Ellie Bugbee
Ryan Parry
Ethan Whitty
Amanda Jukes
Angela Harwood
Phillip Elverson-Webb
Ian Maybank
Sue Ward
Julia Hosken
Sarah Durham
Bobby Painter
Julie Axton
Theresa Craven
Jacqui Meechan
Linda Starink
Tara Petley-Jenks
Frankie Westerman
Donna Brien
Dave Ginn
Kirsty Taylor
Fiona Burns
Rob Thompson
Robin Mair
Cerys Mainwaring
Marcus Knott
Frances Waghorn
Martin Brimson
Christian Cumming
Ann Brimson
Sam Poole
Ross Sherrington
Thomas Knott
Guy Breakwell
Adam Turner
Susan O'Mara
Guy Cordran
Nathan Tait
Haydn Holloway
Danny Chapman
Lisa Beusmans
Ed Jellard
Denise Henderson
Helenna Knight
Gemma Gill
Mat Sibley
Lisa Burns
Megan Thompson