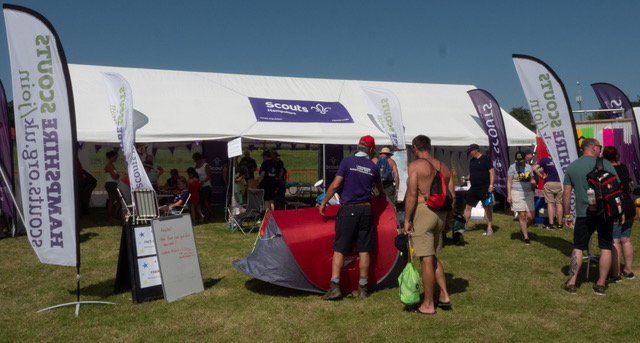 Hampshire Scouts have been asked again this year to support Children In Need's CarFest and are looking for volunteers to join our team supporting the staff, enjoying CarFest and having fun!
Volunteers will be expected to contribute around 16-20 hours over the four days, either on wristband exchange or on the stand that we are running to promote Scouts in Hampshire. This may sound like a lot, but a CarFest day starts at 6am and runs until 10pm, so you'll have plenty of your own time to enjoy everything that CarFest has to offer - the festival, the cars, the food and the bands!
The event takes place Thursday 26th - Monday 30th August, at Laverstoke Park Farm, Overton, Hampshire, RG25 3DR.
CarFest is once again opening to the public campers on Thursday afternoon, so in addition there will be activities on the Thursday evening which we have been asked to support.  We need to be set up and ready to greet campers by 2pm on Thursday and will be camping through until Monday morning.
We are looking for around 120 volunteers to help with the event. Please share this page with any Scout friends that you think would be interested in a weekend of hard work, but amazing fun. Non-scouting partners are welcome to join you too.
You will need to bring your own tent, but we have limited space so think small! Dinner can be arranged through an onsite caterer at a reduced rate. If you wish to sign up for the catering option, we will send you the link to book separately at a later date.
So, having read this, do you want to join us?
To register your attendance and tell us your availability & requirements, we will need each person to register individually using the link above. Please note that volunteers have to be over 18 years old. If you are thinking of bringing your children please do let us know in advance as you will need to purchase them a festival ticket.
By completing this form, you are committing to the weekend; we appreciate that people get poorly or family issues crop up, however we have been let down by people pulling out in the past, and this gives us a real problem as we are working with the organisers to cover a large rota of duties. Please do only sign up if you fully intend to join us.
We will be asking you for detailed information such as medical information, event preferences, t-shirt (TBA), food choices etc. nearer the event.
If you have any questions, please send them to [email protected] - County Growth and Development Officer, or ring 07900 536504.
Hampshire Scouts is in the early days of working on its participation in the 25th World Scout Jamboree in South Korea, in August 2023!
As in previous years, we are also in the early days of the alternative expedition that Hampshire Scouts runs alongside of the World Scout Jamboree, which currently has the working title of "Project 23".
We have had a number of people inquire about these, so we have set up a form to capture "Expressions of Interest" as either a participant, or as an Adult Volunteer. This includes just receiving information, to enable you to pass on to others.
If you were born after 1st August 2005, then you can register an interest to apply as a participant for the 25th World Scout Jamboree.
If you were born on 1st August 2005 or before, then you can register an interest to apply as either;
A Leader for the 25th World Scout Jamboree
A member of the IST (International Service Team) for the 25th WSJ
A Leader for Project 23
To receive information to pass to others
As information then emerges over the next few months, and application process open, we will then automatically send you the information directly.
If you have any questions, please get in touch with us by dropping an email to [email protected]
Ferny Crofts Scout Activity Centre is looking to recruit a team of volunteers to support us in getting the centre, ready for the summer season, and also to help us deliver activities for Scouts throughout the year. Volunteering opportunities will commence as soon as Coronavirus restrictions are lifted sufficiently to allow this to take place safely.
We are looking for people to help us in a few different areas:
Work parties to join us over a weekend to carry out some basic maintenance around the site – this may include painting, campsite maintenance, leaf clearing and other ground works.
Scout Activity Permit holders (or those interested in gaining them) to help instruct activity sessions to Scouting guests.
Volunteers to help us run the Tuck Shop or Reception during the busiest periods of the year.
If you want to get involved, please fill out our expression of interest form.
At the moment this is an expression of interest only. As soon as we know more about when we may be allowed to start Scouting activities again we will be in contact with you.
There are currently some fantastic volunteering opportunities for you to help support the Scouts across Hampshire and in your local area.
County Treasurer
Good with numbers? We're looking for someone with financial skills to join us as our County Treasurer!
Ideally, you'll have senior financial management experience, gained in a commercial or public/third sector institution, and can demonstrate both financial acumen and a sensitivity to the charitable objects of Hampshire Scouts.
This is a rewarding role, and perfect way to put your skills to use, and support Scouting, without necessarily working directly with young people. Find out more!
Lead Volunteer - Eastleigh Scouts
(District Commissioner)
The role of a District Commissioner is very rewarding and is an opportunity to develop yourself and others. The District Commissioner, or District Commissioner Team, will have the opportunity to meet young people and adults, whose lives have been changed as Scouts, and to inspire and help Scouts Groups grow and deliver even more exciting and adventurous activities to even more young people. This is a flexible role and this role is open to role share within a small team. The format of the team can be decided between its members with some guidance from Headquarters. Interested? Take a look!
Neither of these roles need to be filled by current adult volunteers. To find out more about these roles, or any of the others currently available, please take a look at our vacancies page.